Careers
Our entrepreneurial culture, family work environment, and growing business offers numerous ways for you to grow your career.  Whether you to want to advance your skills or try something new, we are committed to helping you grow.
Apply for a job by clicking on the APPLY NOW button or you can email your resume to our Human Resource department.
Grand Rapids
3033 Fruit Ridge Ave NW
Grand Rapids, MI 49544 USA
616-784-2000
Mailing Address
Mailing Address:
P.O. Box 3200
Grand Rapids, MI  49544
STAMPING PRESS OPERATOR JOB DESCRIPTION
Job Title:  Stamping Press Operator
Department:  Press
Reports To:  Plant Supervisor
FLSA Status:  Non-Exempt
SUMMARY
Total responsibility for the safe, quality, and efficient operation of a press.
ESSENTIAL DUTIES AND RESPONSIBILITIES include the following. Other duties may be assigned.
Operation of a stamping press including proper set-up from last-piece to first-piece approval.
Assists in setting up dies and related equipment when job is complete, following current standardized set-up instructions.
Ensures that the proper material is loaded on to coil cart and fed efficiently into the processing equipment, and that the proper dunnage and packaging is available following current standardized set-up instructions.
Inspects product at defined intervals following specified criteria as defined in work instructions/inspection records.
Verify certification of all handheld inspection devices and gauges.
Maintains work area in a clean and safe condition, following 5S standards.
Responsible for following work instructions and scheduling.
Understanding and working knowledge of all job-related Quality Objectives, Quality System Policies, Procedures, and Instructions.
IMPACT ON CUSTOMER QUALITY Failure to perform these activities will likely result in dissatisfaction to the internal/external customer.
Follow established instructions and quality standards.
Responsible for the safety of self, teammates and product from damage and/or injury.
Proper set up of dies following current standardized set-up instructions.
Insures correct packaging and piece-counts on skids/containers.
Proper first/last hit inspections of parts; communicate that the die is ready for the next set or need for repair to the Tooling group.
Perform accurate reporting of production quantities into AX system.
QUALIFICATIONS  To perform this job successfully, an individual must be able to perform each essential duty satisfactorily. Reasonable accommodations may be made to enable individuals with disabilities to perform the essential functions.
EDUCATION and/or EXPERIENCE  High school diploma or general education degree (GED) required. Three to five years' related experience and/or training; or equivalent combination of education and experience.
CERTIFICATES, LICENSES, REGISTRATIONS  Hilo license preferred.
 LANGUAGE SKILLS  Ability to read and write documents such as safety rules, production and quality recording and manufacturing work instructions.
The PHYSICAL DEMANDS AND WORK ENVIRONMENT described here are representative of those that must be met/encountered by an employee to successfully perform the essential functions of this job. Reasonable accommodations may be made to enable individuals with disabilities to perform the essential functions.
Physical Demands:
The employee is regularly required to finger, handle, feel and reach; frequently required to stand, walk, sit, and talk or hear; occasionally required to climb, balance, stoop, kneel, crouch, or crawl. The employee must occasionally lift and/or move up to 40 pounds.  Specific vision abilities required by this job include close vision, distance vision, peripheral vision and depth perception.
Work Environment:
The employee is regularly exposed to moving mechanical parts. The noise level is usually loud. All proper PPE must be worn in all manufacturing areas and responsible for maintaining PPE standards.
When you join the Dennen team you will receive outstanding benefits. In addition to regular wages, Dennen is very pleased to be able to extend benefit opportunities to all full-time associates and their dependents. What follows is an overview of the benefits available to each of our associates.
Highlights of Benefit Opportunities with Dennen:
Medical, Dental and Vision insurance offered to associates and their families effective the 1st of the month after 30 days employment
401k retirement plan and company matching – effective the 1st of the month following 90 days employment
Company paid life insurance (1X base wages up to $50,000)
Company paid Short Term Disability after 1 year of service
Additional life insurance for self, spouse, or children available
Long Term Disability
Flex spending and Dependence Care
Generous PTO and Vacation packages
Nine paid holidays
Associate Assistant Center – confidential service at no cost to associates or anyone in their household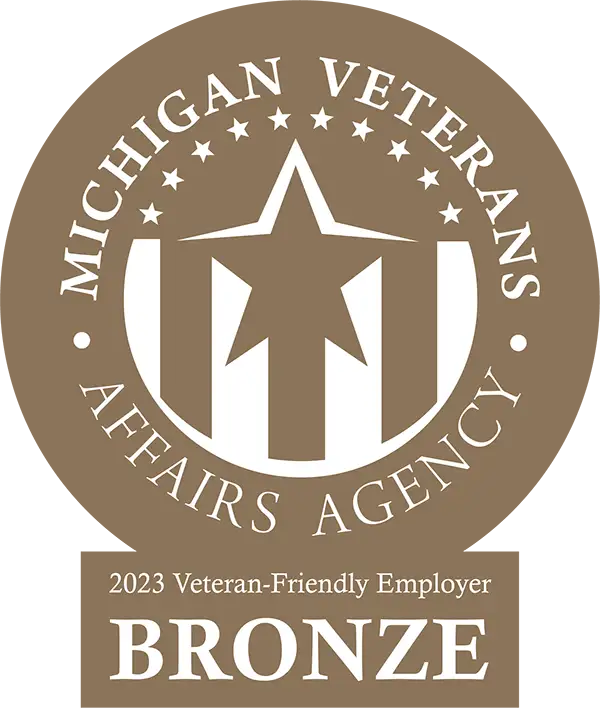 GRAND RAPIDS
3033 Fruit Ridge Ave NW
Grand Rapids, MI  49544
USA
616-784-2000